The life of Viktor Broucinek was one that most of us will only read about. The pages of his story were penned with deprivation and danger, survival and sacrifice, risk and resourcefulness, tenacity, fearlessness and redemption. His was a life lived without excuse and with the deep sense that God had charted his extraordinary course.

Born in Crimea (a region of the Ukraine) on Christmas morning 1925, Viktor entered life as a fragile twin, weighing less than two pounds. He and his tiny sister joined their parents and siblings in a world defined by economic want and near starvation due to Communistic oppression. When Viktor was 14 or 15 years old, Germany occupied their land, and Viktor, his mother and siblings were sent to a concentration camp in Germany. His father was conscripted to serve in Russia and was never able to reunite with his family.

Viktor, along with his mother, his brother and sisters spent approximately three years in concentration and work camps, and because his mother spoke fluent German and was used as an interpreter, the family was spared the gas chamber. Viktor worked long hours on a farm, and was gradually taking on the role as the provider of his family as he would find ways to smuggle extra food to them and other needs. He would also have dreams - some of which were specific enough to let him know when bombings would occur - that would further assist him to protect his family.

When the Americans liberated the prisoners, Viktor's mother took her children back to her native Czechoslovakia. Viktor, now 18 or 19 years old, further increased in his role of provider, working to support his family as his sisters completed their education. He began his vocation as an electrician, and he owned his own business. In 1948, because Czechoslovakia had turned to Communism, Viktor gave his business away rather than have the state seize it, and he continued his vocation as an employee.

Because Viktor's world was one that afforded no freedom, he lived his life with fearlessness and resourcefulness in order to accomplish that which God had called him to do. In 1948 he undertook to locate his father. He actually sauntered right past border guards and left the country uncontested. (He found his father, but because his father had worked on an American base in Munich, (Indiana Storage Area, MQMD) he was denied entrance back into Czechoslovakia.) If Viktor needed to feign mental insanity to successfully achieve a goal, he would do it. On another occasion, while visiting the Soviet Embassy in an attempt to liberate a family member from Siberia, Viktor, with unflinching confidence, stared down Clerk Konstantin Chernenko, while demanding, "Do you know who you are speaking to?!" The frightened Chernenko, assuming Viktor was someone of importance and power, complied with Viktor's request, never suspecting he was addressing a common man. Chernenko went on to become the General Secretary of the Soviet Union. (In control of the entire Soviet Union.)

In 1960 Viktor married Jana Holicka (Holtiz-ska), and in 1961 Viktor Jr. was born. In 1964, their second son, Jan, was born. In 1969, one year after the Russian occupation of Czechoslovakia, Viktor found himself and his family in danger of deportation – or worse. It was not uncommon for men to simply 'disappear'.
At this time, he made the decision to try to get his family safely to America. With courage, cunning and much prayer, the family took what they could carry, and went on a "vacation" to Austria – never to return. One day later the Iron Curtain fell, and the border was permanently closed. Several months later, on December 10, 1969, Viktor arrived in New York with his wife, two small boys and two suitcases. A new life was about to be unfurled.

After a brief ten day stay with relatives in Columbus, OH, and just days before Christmas, Viktor moved his family to Pinellas Park, FL, where he never skipped a beat. While staying with family and remodeling a garage into an apartment, he helped anyone who asked for assistance. His skill, tenacity and resourcefulness paid off, and within days he was employed as an electrician. While speaking virtually no English, his worth and integrity were recognized, and he became a valuable member of whatever company he worked for. The last twenty years of his career, Viktor worked for A. Randy's Electric, retiring as Foreman in 1990. It should also be noted that within months of arriving in the in Florida, he had purchased his own home where he and Jana raised their sons and where Jana lives to this day

Viktor Broucinek leaves a legacy of hard work, courage, honesty and honor. He knew how to be stern, and he knew how to laugh. In a word, he lived the story of his life well. He leaves behind his wife of 48 years, two sons, nine grandchildren, and seven great-grandchildren. He also leaves a brother, three sisters and numerous cousins, nieces and nephews in several countries spanning three continents.

Though Viktor was quiet about sharing his faith, he held a deep conviction that God was guiding his steps. He eagerly looked forward to Jana reading their daily devotions together, a practice that she faithfully continued until the last day of his life on earth.

Personal Reflection:

My father-in-law was an extraordinary man, and I am honored to have brought this small glimpse of his life. He welcomed me into his family and into his heart, and he embraced my sons as his own. Jan has often said that he wished I and the boys could have known Dad the way he used to be, when he was robust and full of life. I say that I am so grateful to have known him at all, and that in a few short years, we became father and daughter.

Finally, I cannot fully honor Dad without honoring the woman who loved him till the end. Mom, you have modeled for me – and all of us – what it looks like to be devoted, faithful and madly in love with the man of your dreams. Thank you. I hope I may love Jan in such a way.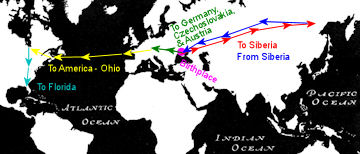 Places dad lived. (Click map to enlarge).